TD Garden Policies
BAG POLICY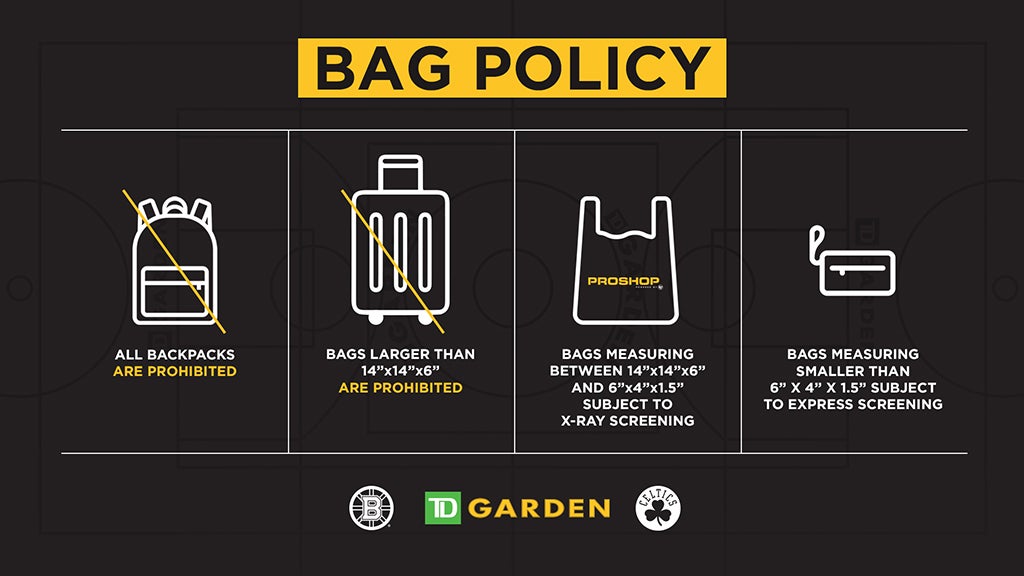 To uphold health and safety protocols, minimize contact, and ensure a swifter entry process, TD Garden strongly discourages guests from bringing bags to events.
If a bag is necessary, the following restrictions and processes apply:
• Backpacks of any size are considered prohibited items and are not allowed into the arena.
• Bags that measure larger than 14"x14"x6" are considered prohibited items and are not allowed into the arena.
• Bags that measure between 14"x 14"x6" and 6"x4"x1.5" (including clear bags and ProShop powered by '47 bags) are subject to x-ray screening and visual inspection.
• Bags that measure smaller than 6" x 4" x 1.5" may proceed through express screening lanes for visual inspection.
• Diaper bags and bags needed for medical reasons are allowed but will be subject to x-ray screening. We kindly ask that you reach out to TD Garden Customer Service (customerservice@tdgarden.com) 24 hours prior to your event if you want to arrange for additional accommodations before arrival.
Reminder: Patrons with prohibited items will not be permitted entry to the arena. TD Garden does not provide on-site storage. Guests are asked to plan accordingly and allow for extra time when arriving to TD Garden.
---
TD Garden Customer Service
CALL:  617-624-1331
FAN TEXT HOTLINE*: 276-FAN-SAFE (326-7233)
EMAIL: customerservice@tdgarden.com
*The Fan Safe Hotline is active and monitored only on event days, beginning 90 minutes prior to the event start time through the end of the event. If you need assistance during non-event days or times, please email customerservice@tdgarden.com or call 617-624-1331.
---
GENERAL ADMISSION (GA) TICKETHOLDER INFORMATION
Numbered wristbands will be given out to guests between 8am-1pm on the event day by TD Garden security personnel at Stair 4 on the west side of the building (near Tasty Burger).
Once guests receive a wristband, they must leave TD Garden property until 4pm. Camping out or loitering is not allowed on TD Garden/North Station Property.
Guests will be able to line themselves up in order based on the wristband number they received starting at 4pm on the event day. Security and TD Garden Guest Ambassadors will be on site to assist guests as necessary.
*Entry requirements and venue protocols are subject to change.
---
GUEST CODE OF CONDUCT
TD Garden is committed to creating a safe and enjoyable experience for everyone. Guests who do not comply with the Guest Code of Conduct guidelines below may be in violation of arena/city ordinances and will be subject to arrest, eviction and/or a lifetime ban:
Guests will enjoy the event experience free from disruptive behavior, including foul or abusive language and obscene gestures.
Guests will consume alcoholic beverages in a responsible manner. Intervention with an impaired, intoxicated or underage guest will be handled in a prompt and safe manner.
Guests will sit only in their ticketed seats and show their tickets when requested.

Guests will not engage in fighting, throwing objects, or attempting to enter the playing or performing surface. Guests who do so will be immediately evicted from the arena

Guests will not smoke in the arena. Guests who do so will be immediately evicted from the arena.

Guests will not display obscene or indecent messages on signs or clothing.

Guests will comply with requests from arena staff regarding arena operations and emergency response procedures.

Guests will not exit and re-enter the building after scanning of tickets.
TD Garden is committed to ensuring a safe, comfortable and enjoyable experience for all guests. If you encounter a security concern, another guest is interfering with your enjoyment of the event, or any guest is in need of assistance during an event, you should:
Text our Fan Safe Hotline at 276-FAN-SAFE (326-7233) with issue and seat.
Report the issue to any Uniformed TD Garden Staff.
Visit Guest Services located at Level 4, Loge 4 or Level 7, Section 307.
PROHIBITED ITEMS
ALL ITEMS brought into the arena are subject to inspection. The following list of items are not permitted in the arena and may be confiscated. Items that are confiscated will not be returned:
Weapons/chains
Outside food and/or beverages, including alcoholic beverages
Drugs, including medical marijuana, or illegal substances
Vape Pens, e-cigarettes or similar
Flammable items, including lighters and aerosol cans
Laptop computers and/or tablets
Professional cameras, cameras with detachable lenses, video cameras or recording devices of any kind
Tripods or monopods
Drones
Selfie sticks, or any stick or pole of any size
Umbrellas that do not collapse to 12 inches or less
Laser pointers or similar items
Artificial noisemakers
Glow sticks or any kind of glow jewelry
Large banners, flags, or signs
Inappropriate attire or signage

Signs 8 ½ x 11" or under that adhere to the Code of Conduct are permitted inside TD Garden. TD Garden management may prohibit and confiscate signs that violate the Code of Conduct or are not event-related, excessive in size or contain indecent or derogatory comments or images, political statements, or commercial references. Signs and banners may not be hung anywhere in the Garden or displayed in any way that obstructs the view of others or advertising signage. No signs or banners with poles or sticks are permitted.

Any item deemed dangerous or distracting by the arena, team or production
Guests, including law enforcement personnel not present in an official capacity, are prohibited from bringing weapons into the arena. TD Garden does not provide lockers of any type. Weapons include, but are not limited to, the following: firearms, explosives, stun guns, handcuffs, brass knuckles, sticks, clubs, batons, martial arts instruments, pepper spray, tear gas and knives. Guests found in possession of the above-mentioned items will be asked to remove the item from the arena or dispose of it. Guests who refuse to comply will not be permitted entry into the arena.
---
Ticket Policy
Tickets for events at TD Garden may be purchased at the following authorized points of purchase: in person at the TD Garden Box Office, at Ticketmaster.com, or at a Ticketmaster Outlet. Click here for more information on purchasing tickets. Note: there are no ticket printing devices located on the concourse.
TD Garden uses bar code scanning for ticket admissions. As a result, fans should be careful when purchasing tickets and should ensure that the seller is a TD Garden licensed ticket seller, such as the TD Garden Box Office, all Ticketmaster outlets, Ticketmaster by phone, and Ticketmaster.com. Otherwise, you may be purchasing a ticket that is invalid and will be denied admission.
Fraudulent/Counterfeit & Secondary Market Tickets
Guests are advised that the only authorized sales agents for TD Garden tickets are the TD Garden Ticketing Department, TD Garden Box Office, Ticketmaster and TD Garden event promoters.
The only authorized ticket resale services for TD Garden tickets are Ticketmaster verified sites.
Tickets purchased from any other sources may not be valid. TD Garden is not able to honor, replace, or refund invalid tickets.
Reporting Counterfeit Tickets
Invalid tickets/barcodes will be confiscated by TD garden Box Office after an invalid scan. A Copy of the ticket will be provided at the customer's request. A copy of the invalid ticket may be used to alert the point of purchase.
Guests with invalid tickets are welcome to purchase new tickets at TD Garden Box Office, but seat inventory, location and price is based upon availability.
Guests are strongly encouraged to report counterfeit ticket sales to the point of purchase and to consumer protection agencies such as the Massachusetts Attorney General Consumer Protection Hotline, at 617-727-8400. The hotline is staffed Mon-Fri, 10:00 AM to 4:00 PM.
If guests have information about the selling of counterfeit tickets, they are also encouraged to contact Boston Police. Individuals wishing to provide information anonymously may do so by calling the CrimeStoppers Tip Line at 1-800-494-TIPS or texting the word 'TIP' to CRIME (27463).
Violation of the above rules and regulations will result in eviction and/or arrest.
---
Water
Courtesy cups of tap water are available for all guests, please ask your server.