Apr

23

, 2019
TD Garden Hires Exec Chef Ghalaini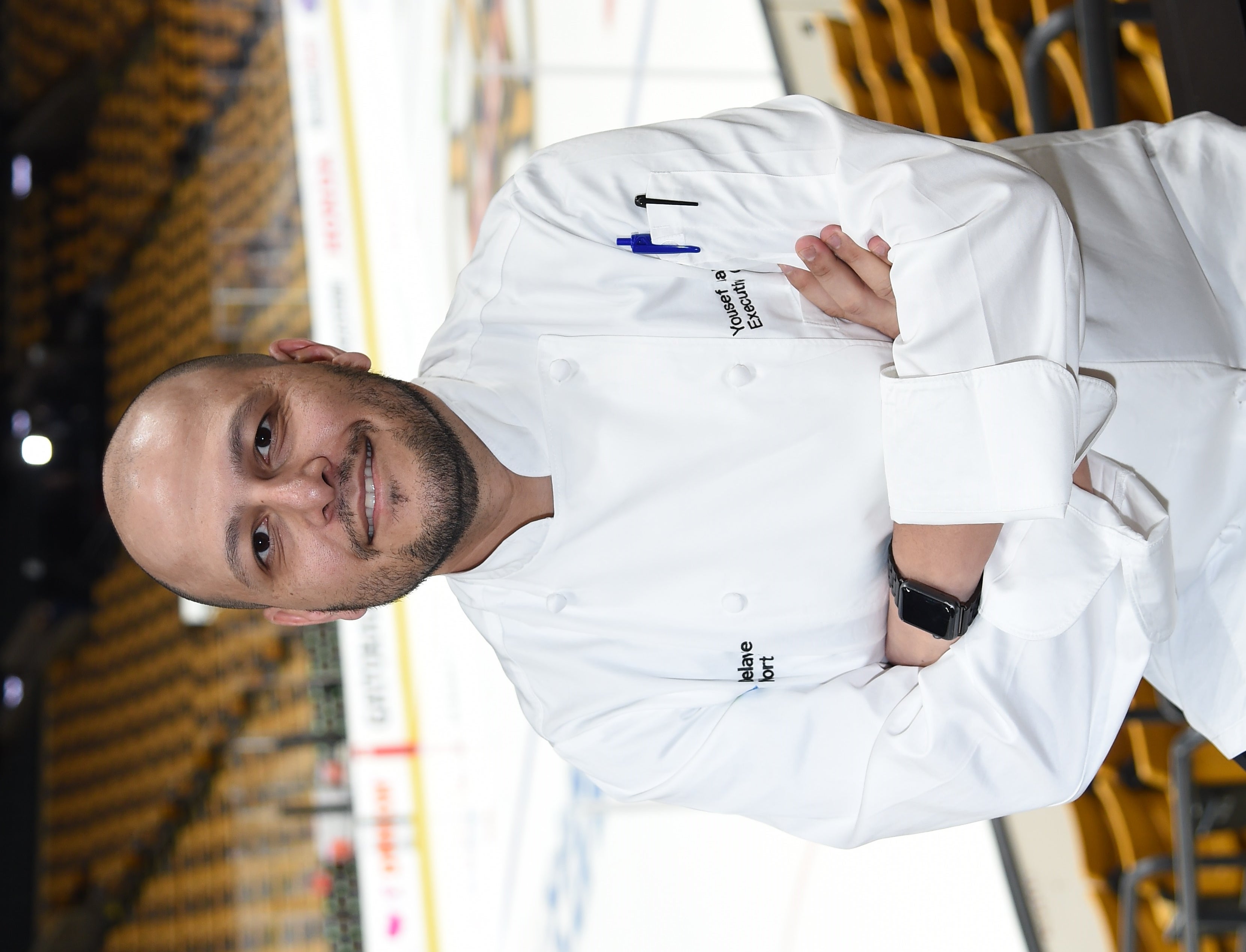 Yousef Ghalaini Named Executive Chef for Massachusetts Sportservice at TD Garden
Boston, MA (April 23, 2019) – Delaware North, owner and operator of TD Garden, announced today that Yousef Ghalaini has been named Executive Chef of Massachusetts Sportservice at TD Garden, Delaware North's food, beverage, and retail provider for the arena.
Ghalaini will be responsible for the fan culinary experience within TD Garden, including managing activities for the culinary management team, coordinating and actively participating in event operations and monitoring key performance indicators. He will direct and control total function of the kitchens pertaining to food production and quality assurance. TD Garden recently announced a $100 million, 50,000 sq. expansion that touches every level of the 23-year-old arena. Ghalaini will be responsible for managing and overseeing the food and beverage experience for fans in the new, expanded spaces, such as the concourse levels and hospitality spaces affiliated with the arena's newly launched membership-based club known as Boston Garden Society.
A proven industry leader, Ghalaini brings more than a decade of culinary experience to the arena. He joins TD Garden from Big Night Entertainment where he was Culinary Director for the restaurant and nightlife group. Prior to his time with Big Night Entertainment, Ghalaini managed the culinary teams at Fairmont Miramar Hotel and The Pebble Beach Resorts.
Ghalaini replaces longtime TD Garden Executive Chef Kevin Doherty who was recently promoted to Director of Food and Beverage for Sportservice. In Doherty's new role, he will work closely with the Regional Sportservice Food and Beverage Team to define, oversee, standardize and monitor Delaware North's leading-edge food and beverage services.
Doherty has been based out of TD Garden and with Delaware North Sportservice since 2000. He has served as the on-site Executive Chef, in addition to serving as a regional chef in some capacity, being front and center for several special events and openings. He has been a key subject matter expert in business development presentations and began his impressive culinary career as a sous chef at The 600 Club in at Boston's Fenway Park.
In addition to bringing in Ghalaini and promoting Doherty, Sportservice promoted three chefs on its culinary team at TD Garden. Randi Burger was recently elevated to Executive Sous Chef of 1928 Club – a new Boston Garden Society location set to open this fall as part of TD Garden's expansion. Burger will oversee and manage food production, budgeted food cost, inventory, menu development and train all kitchen associates to ensure a consistent and memorable culinary experience in the new space.
Sportservice also announced new roles for chefs Nick Gough and Tanisha Depina. Gough will transition into the role of Legends Sous Chef where he will provide culinary direction and oversight of culinary operations of the club. Depina has been named Banners Sous Chef and will be responsible for overseeing and managing the production of food, maintaining budgeted food cost, inventory, menu development and training of all kitchen associates.
Delaware North Sportservice is one of the leading foodservice and retail management companies in sports, serving fans at more than 50 sports stadiums, ballparks and arenas, including TD Garden.
About TD Garden
TD Garden, owned and operated by Delaware North, first opened its doors to the public on September 30, 1995. In the 20 plus years since, the venue has generated more than $365 million in direct economic impact to the Greater Boston region from its major national events alone, not including its high-profile Bruins and Celtics tenants. The arena has played host to countless marquee events, including the Democratic National Convention, NHL AllStar Game, NCAA Frozen Fours, NCAA Women's Final Four, U.S. Gymnastics Olympic Trials, U.S. Figure Skating Championships and ISU World Figure Skating Championships among others.
Delaware North is one of the largest privately held hospitality and food service companies in the world. Founded in 1915 and owned by the Jacobs family for more than 100 years, Delaware North has global operations at highprofile places such as sports and entertainment venues, national and state parks, destination resorts and restaurants, airports, and regional casinos. Our 55,000 employee associates are dedicated to creating special experiences one guest at a time in serving more than a half-billion guests annually. Delaware North operates in the sports, travel hospitality, restaurant and catering, parks, resorts, gaming, and specialty retail industries and has annual revenue of about $3 billion. Learn more about Delaware North, a global leader in hospitality and food service, at www.delawarenorth.com.