May

12

, 2019
TD GARDEN ANNOUNCES NEW PLAYOFF ACTIVATIONS FOR RD. 3
TD Garden offers the most diverse food and beverage options of all arenas in New England, and this season, Sportservice, Delaware North-owned food, beverage and retail operators, continues to push the boundaries for the fan culinary experience.
To celebrate the third round of the playoffs at TD Garden, Eastern Conference Finals branded koozies that has both the Bruins and Hurricanes logos on it. These limited edition koozies will be available in any of the various concession stands and grab n' go's that sell 16 oz. beer cans.
LOADED POTATO BACON BURGER | BIG BAD BURGER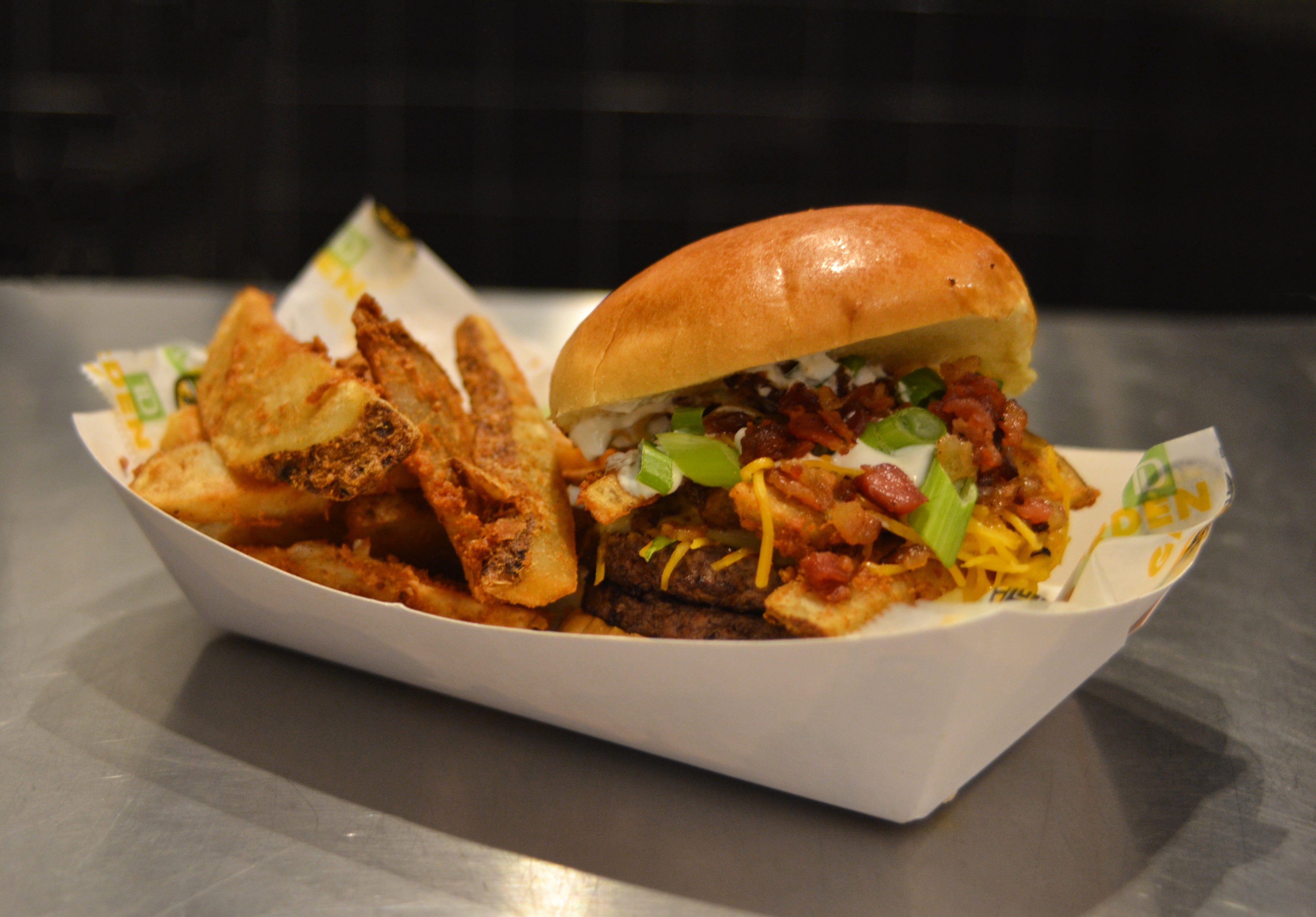 Loge Section 8 & Balcony Section 311
Double Burger topped with fries, shredded cheddar cheese, sour cream, chopped bacon and scallions.
CHICKEN GYRO | GARDEN GRILL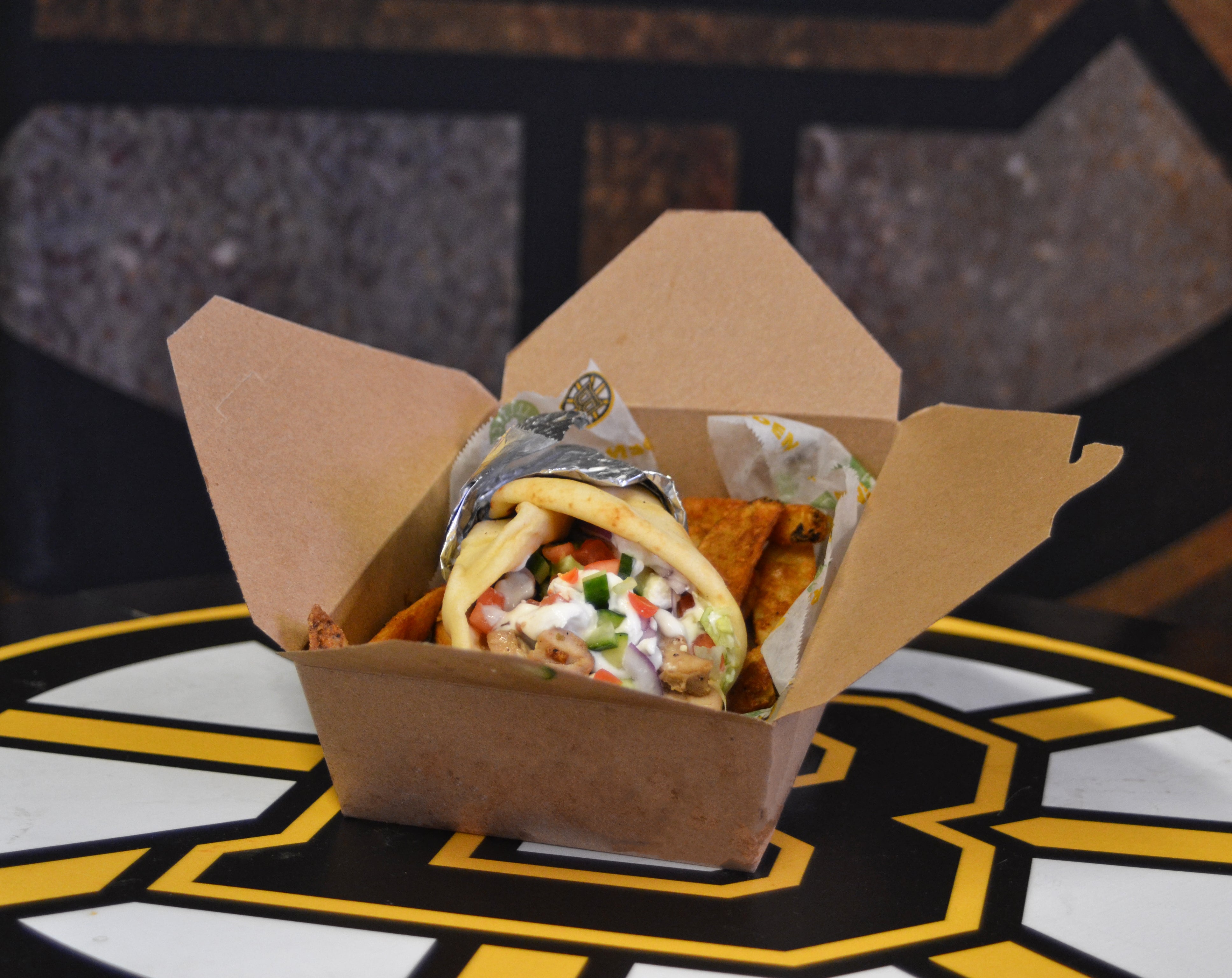 Loge Section 8/9
Sliced chicken, Tzatziki sauce, diced tomato, lettuce, cucumber, red onion and crumbled feta cheese.
KOREAN BBQ WINGS | BIG BAD BURGER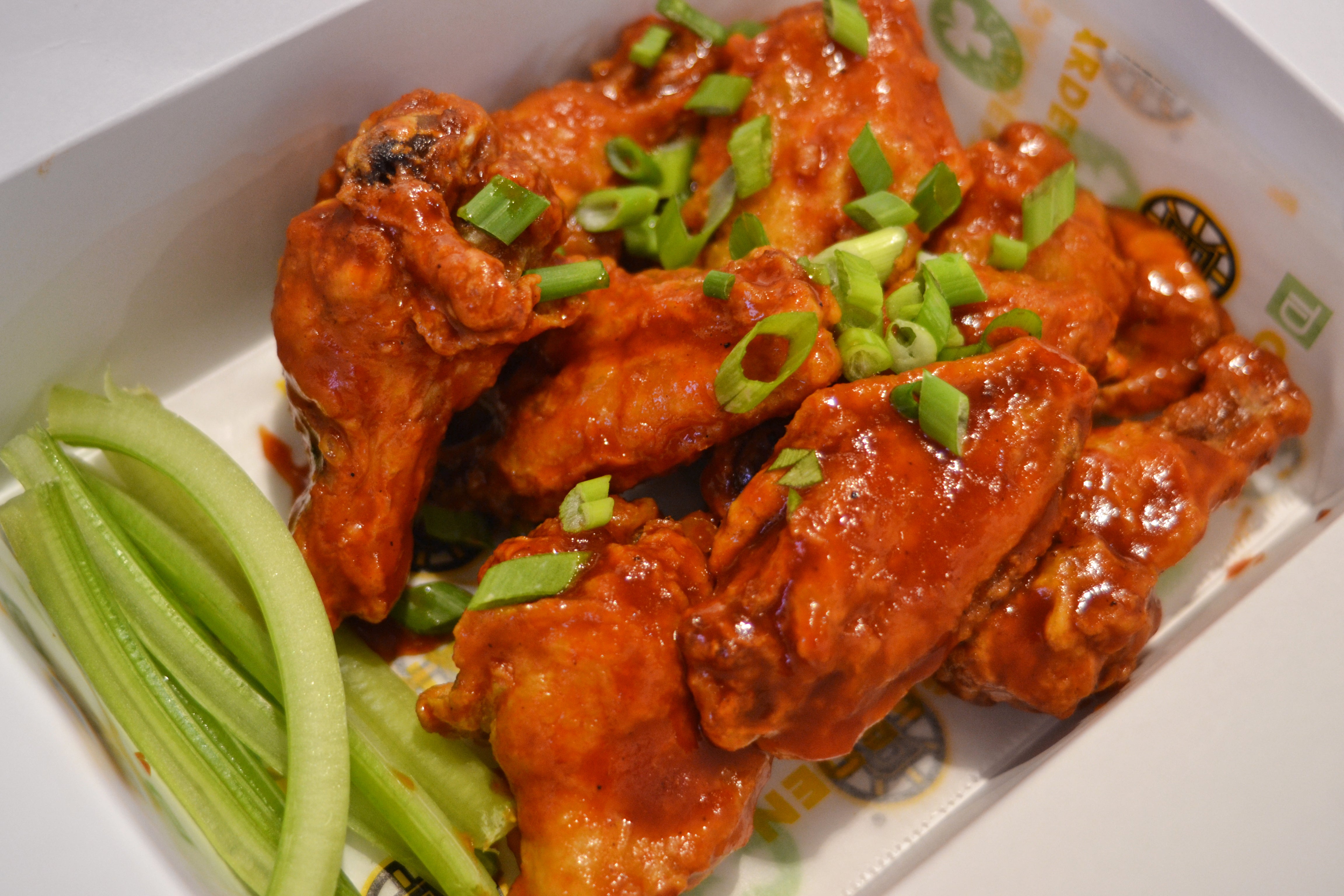 Loge Section 8
Chicken wings smothered in a tangy and sweet Korean barbeque sauce.
CHORIZO DOG | FRITO-LAY TEST KITCHEN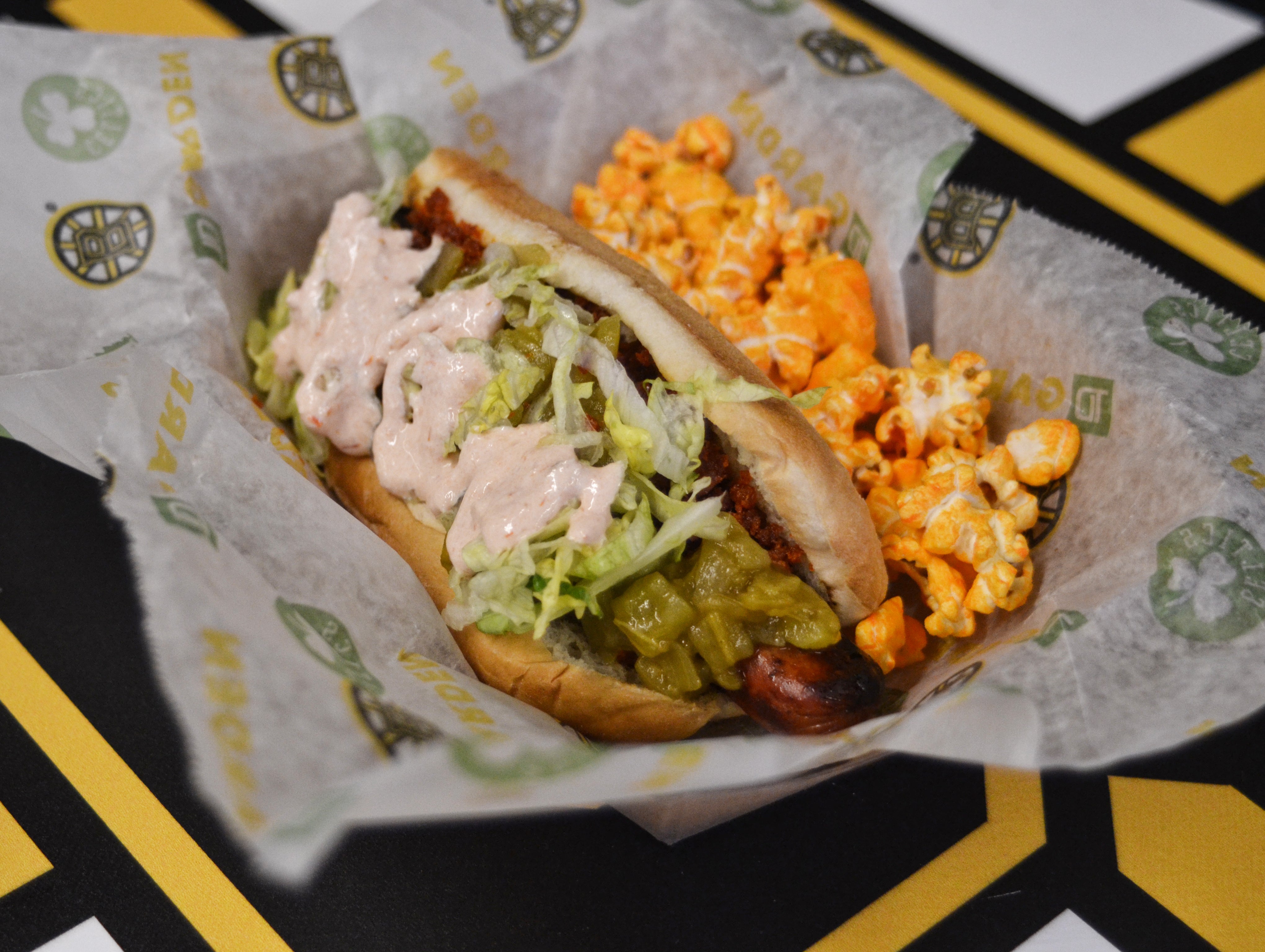 Loge Section 15
Hot Dog topped with chorizo, diced green chili, lettuce and salsa crema.
CHILI MAC AND CHEESE HOT DOG | MARKETPLACE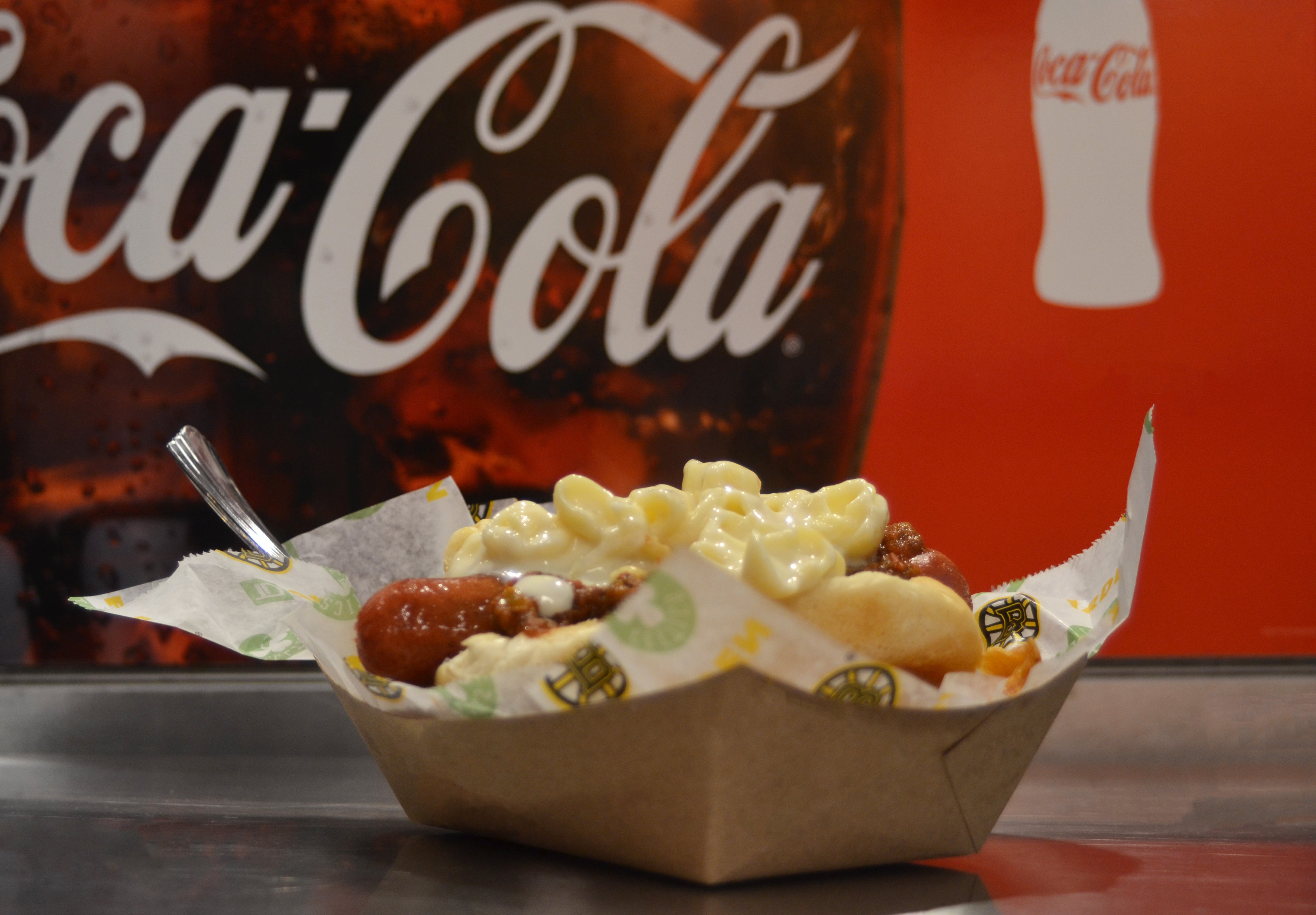 Loge Section 9
A jumbo hot dog topped with chili and macaroni and cheese.
BEER BATTERED ONION RINGS | BOSTON COMMON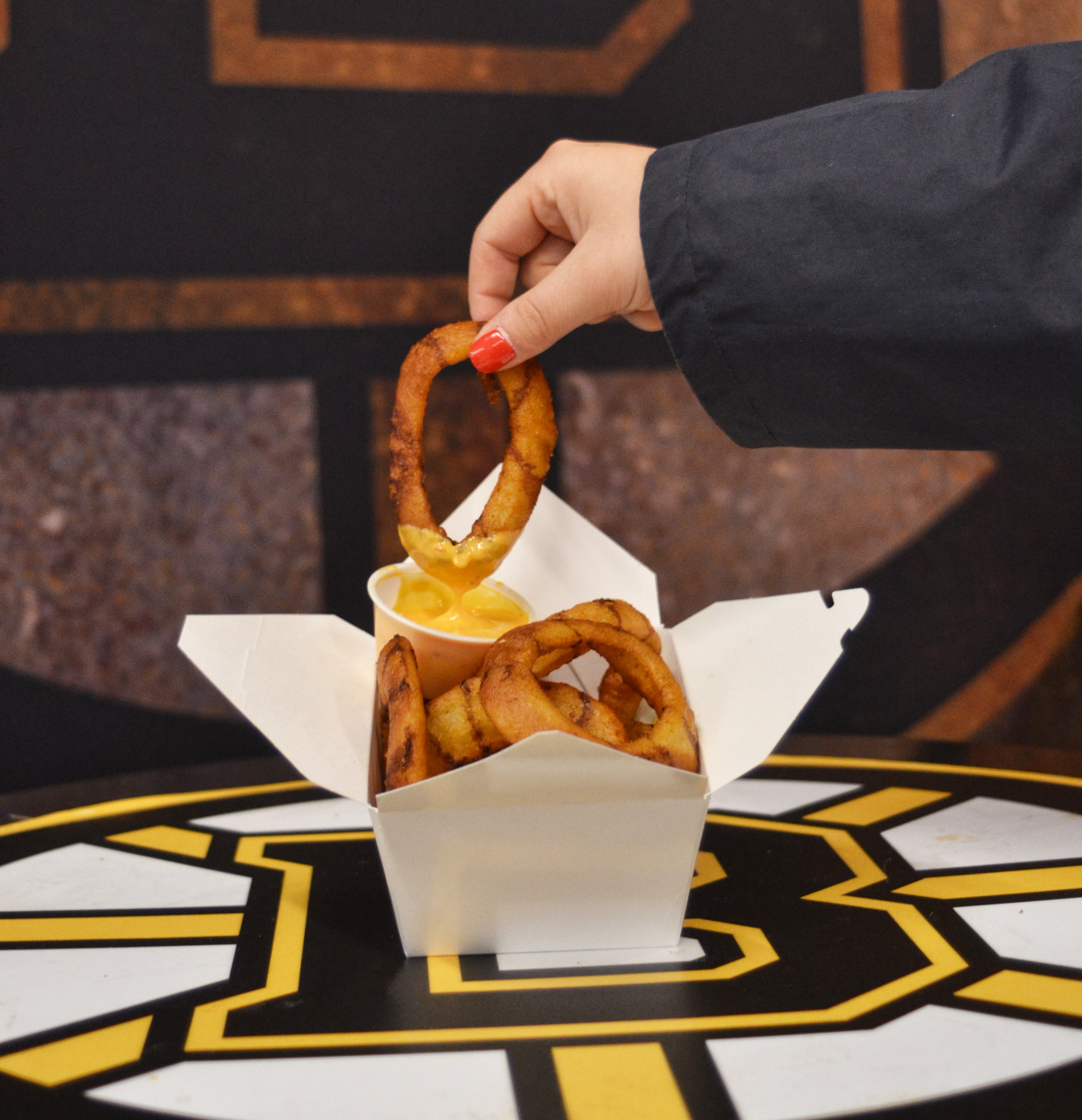 Loge Section 10
Thick-cut onions beer-battered and friend to golden perfection.
BBQ NACHO BUCKET | BACK BAY BBQ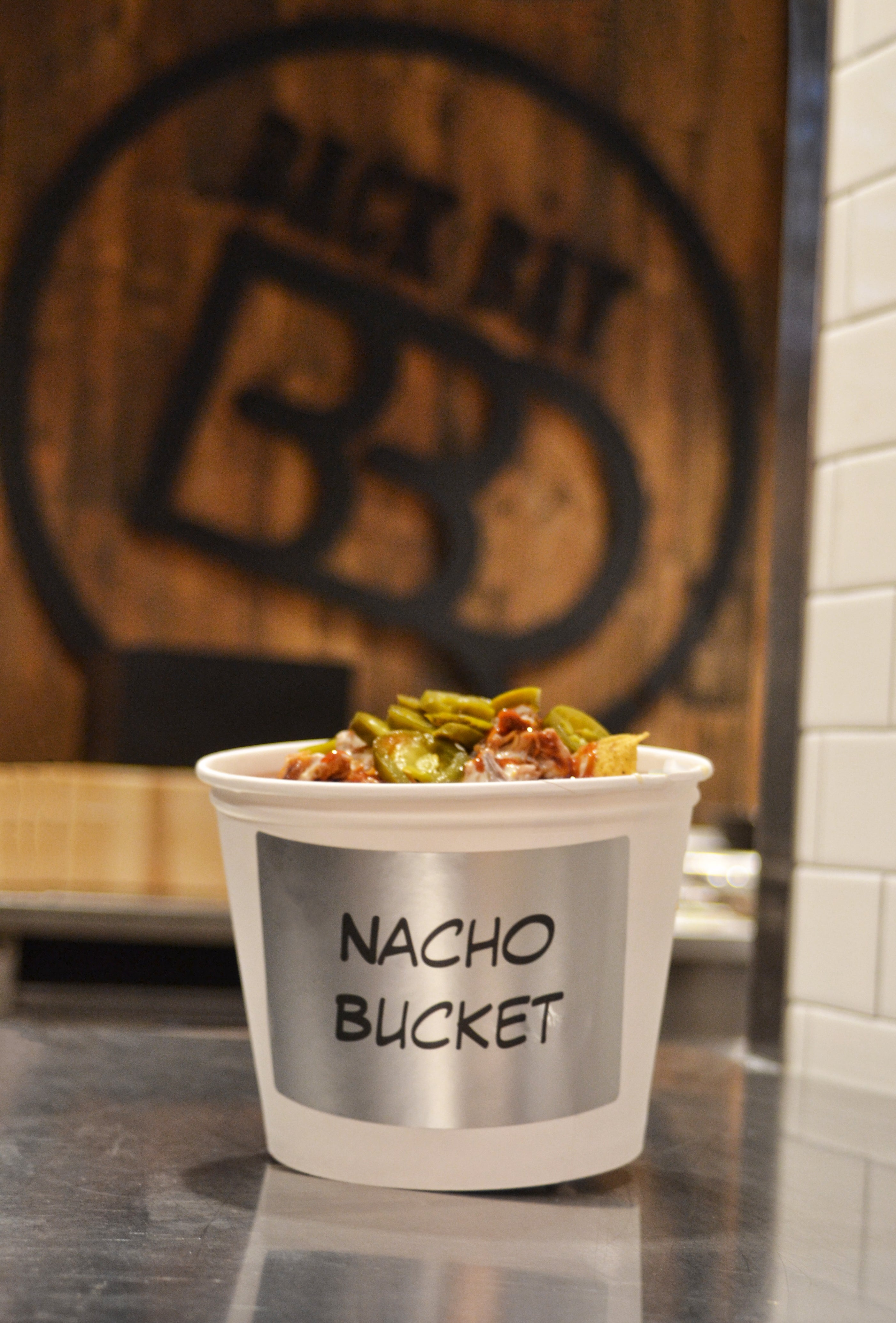 Loge Section 18 and Balcony Section 323
Nacho average serving size! Choose between BBQ pulled pork or brisket in served over a heaping mound of tortilla chips. Add the fixings that you fancy to finish off the ultimate fan snack.
HURRICONE | FRITO LAY TEST KITCHEN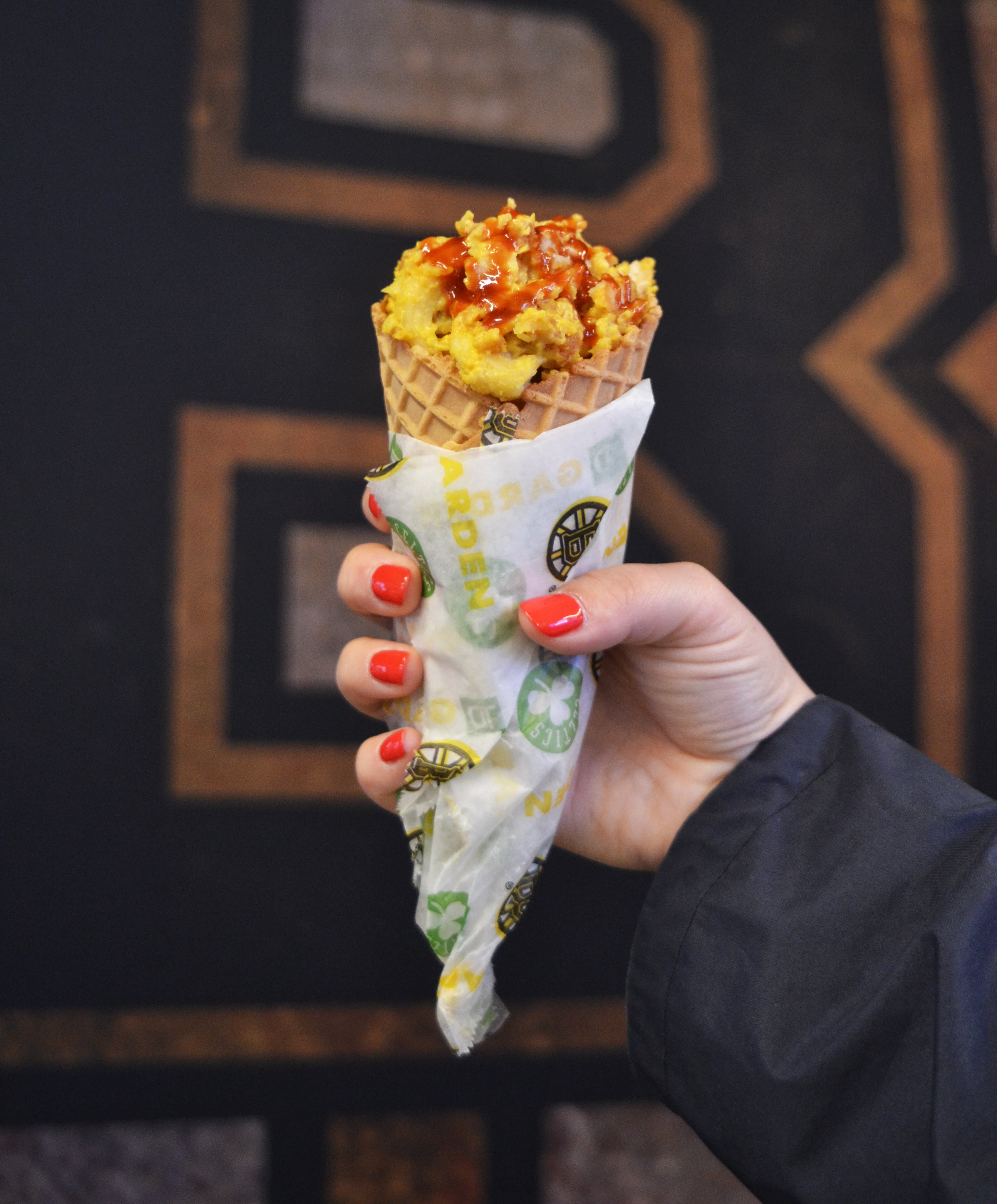 Loge Section 15
A waffle cone filled with BBQ chicken macaroni and cheese.
HAT TRICK BURGER | BIG BAD BURGER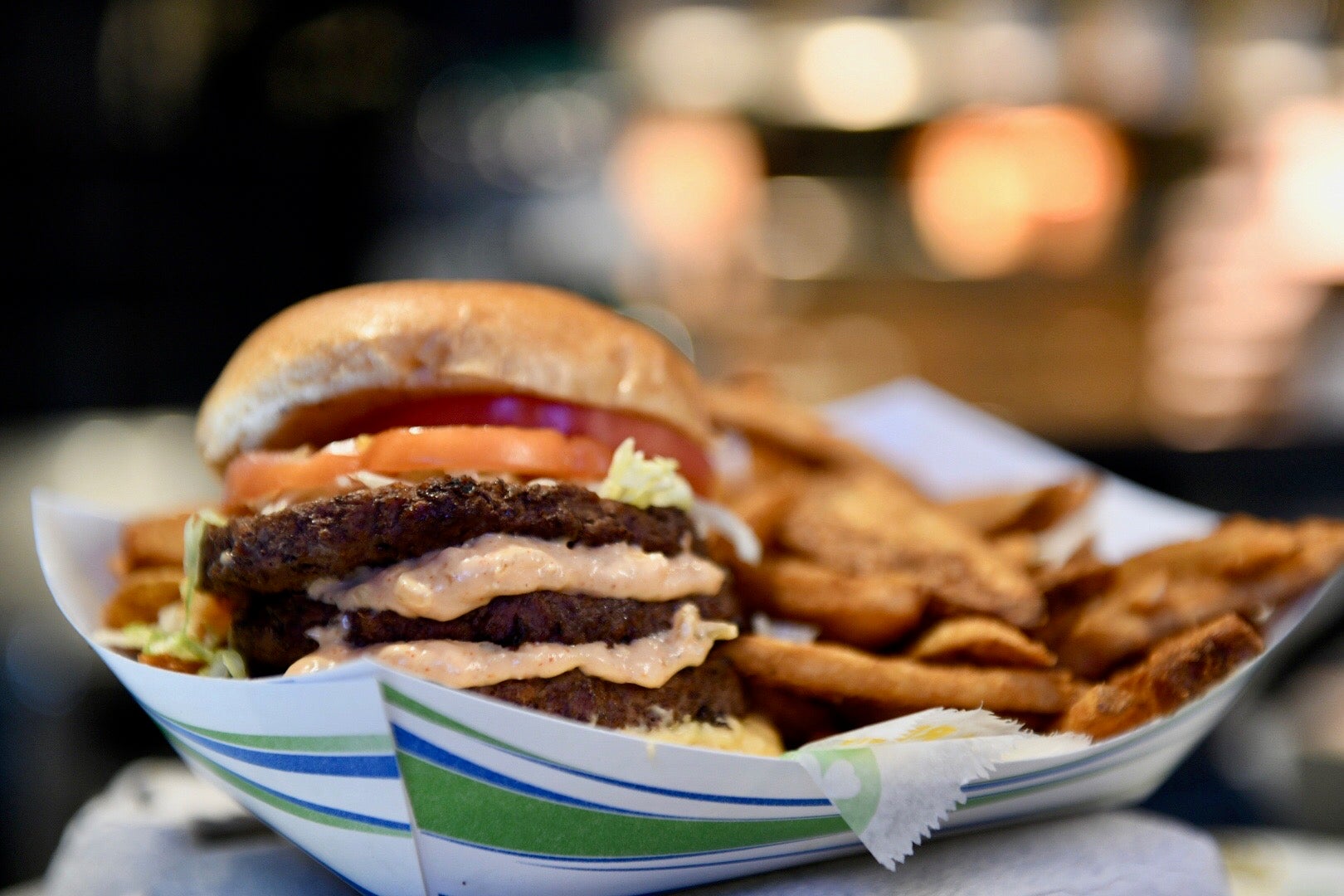 Loge 8 & Balcony 311
Rookies need not apply. This triple patty cheeseburger is smothered in gooey sauce and topped with lettuce and tomato and served on a toasted roll.
COLLETTEY'S COOKIES | HUB HOT DOG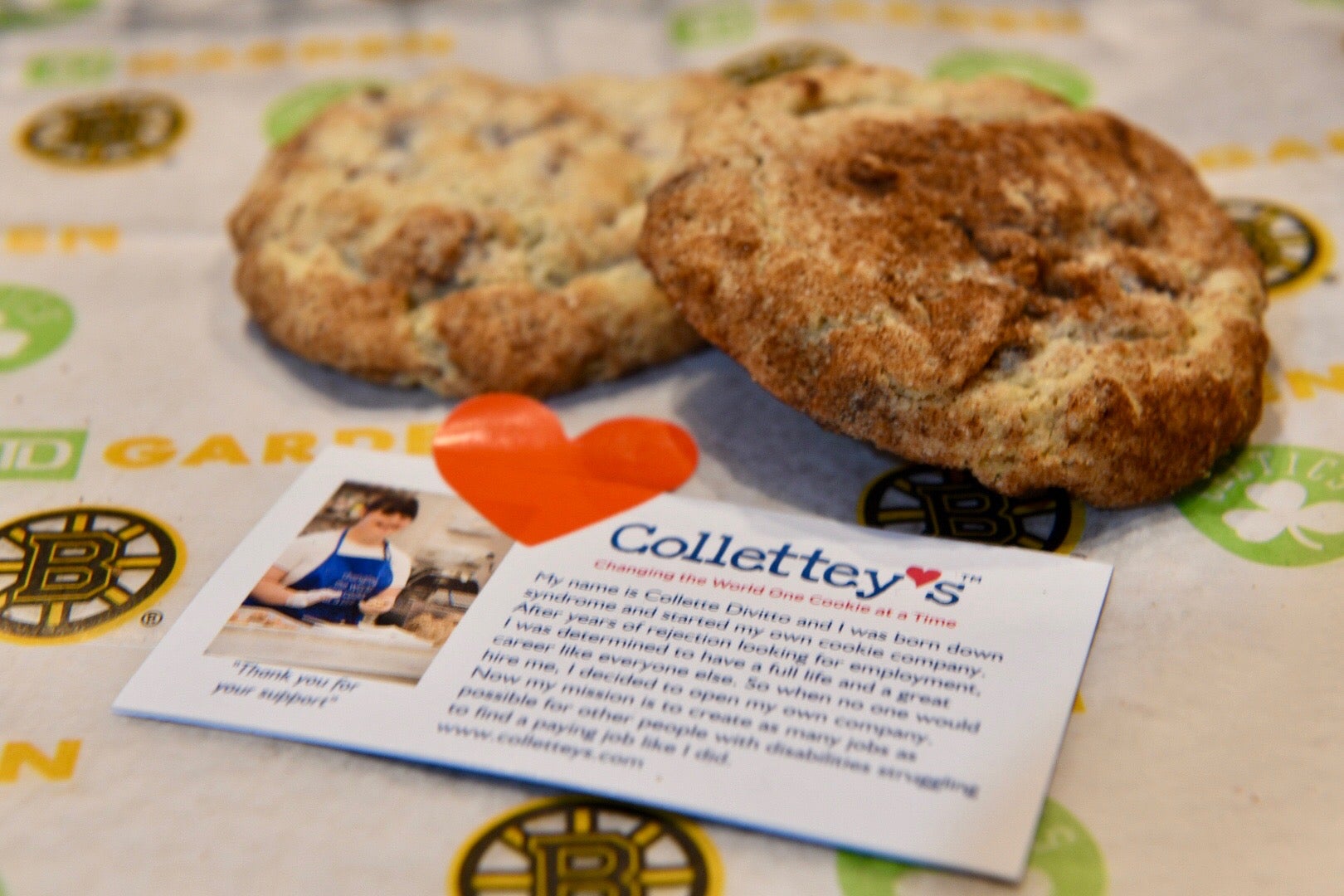 Loge 3 & Balcony 328
TD Garden has proudly partnered with Collettey's Cookies, a local, inclusive business run by Collette Divitto. Divitto is a young woman with down syndrome who took her passion for baking and made it into a business that offers employment opportunities to people with disabilities. Collettey's Chocolate Chip Cookie will score with any fan that has a sweet tooth.