Apr

12

, 2019
TD Garden Announces New Playoff Activations
Arena Debuts Hidden Hallways; Three All-New Innovative, Immersive, and Instagram-able Fan Areas
Building on the excitement of the Boston Bruins and Boston Celtics playoff games at TD Garden, the arena is proud to announce several new fan activations and menu specials that will bring the game day experience to the next level.
HIDDEN HALLWAYS
TD Garden is excited to announce three new activation spaces on Boston Garden Society level 5. These previously unused spaces between Society Suites are being dubbed TD Garden Hidden Hallways. TD Garden Hidden Hallways was created in conjunction with art_works, an art strategy consulting group, to add another layer to the in-arena fan experience. The idea is to generate new ways for fans to curate their own art galleries, their Instagram feeds, and provide a meaningful and interactive way for fans to engage with art inside TD Garden.
For a limited time during the Bruins and Celtics playoffs, Boston Garden Society members can pop into TD Garden Hidden Hallways free of charge before, during and after events to check out these unique and photogenic areas. Fans hoping to sneak a peek at these new spaces on non-game days are invited to come tour TD Garden Hidden Hallways as part of a tour offered by The Sports Museum. For hours of operation and other info for the museum, please visit www.sportsmuseum.org.
BOSTON GARDEN SOCIETY SECRET SUITE.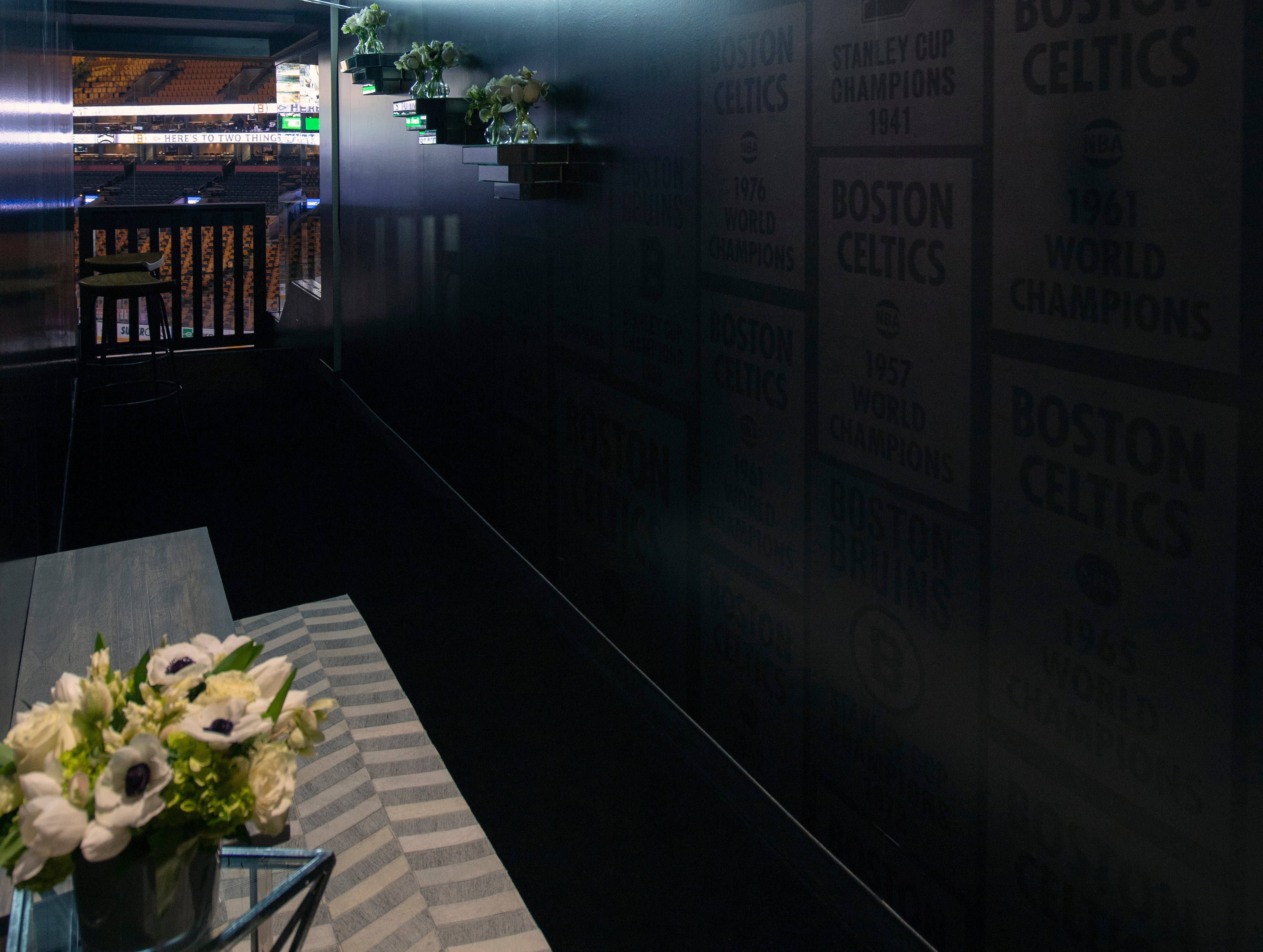 Nestled between Society Suites 502 and 503, this space provides the ultimate legendary experience for fans. Sleek black carpeting leads to the perfect lookout over the arena bowl, serving as a great backdrop for photos. The wallpaper lined hallway features vintage Boston Garden vibes and ends with four high boy stools were fans can sit and watch some of the game action. To complete this legendary experience, fans will find the 'On Call' switch on the wall. One flip of the switch and a Boston Garden Society associate will arrive with a special delivery during playoffs. Take a photo in front of the neon #BostonGardenSociety sign to post and share your legendary experience.
BOSTON BRUINS 'THE PLAYERS' ART ALLERY.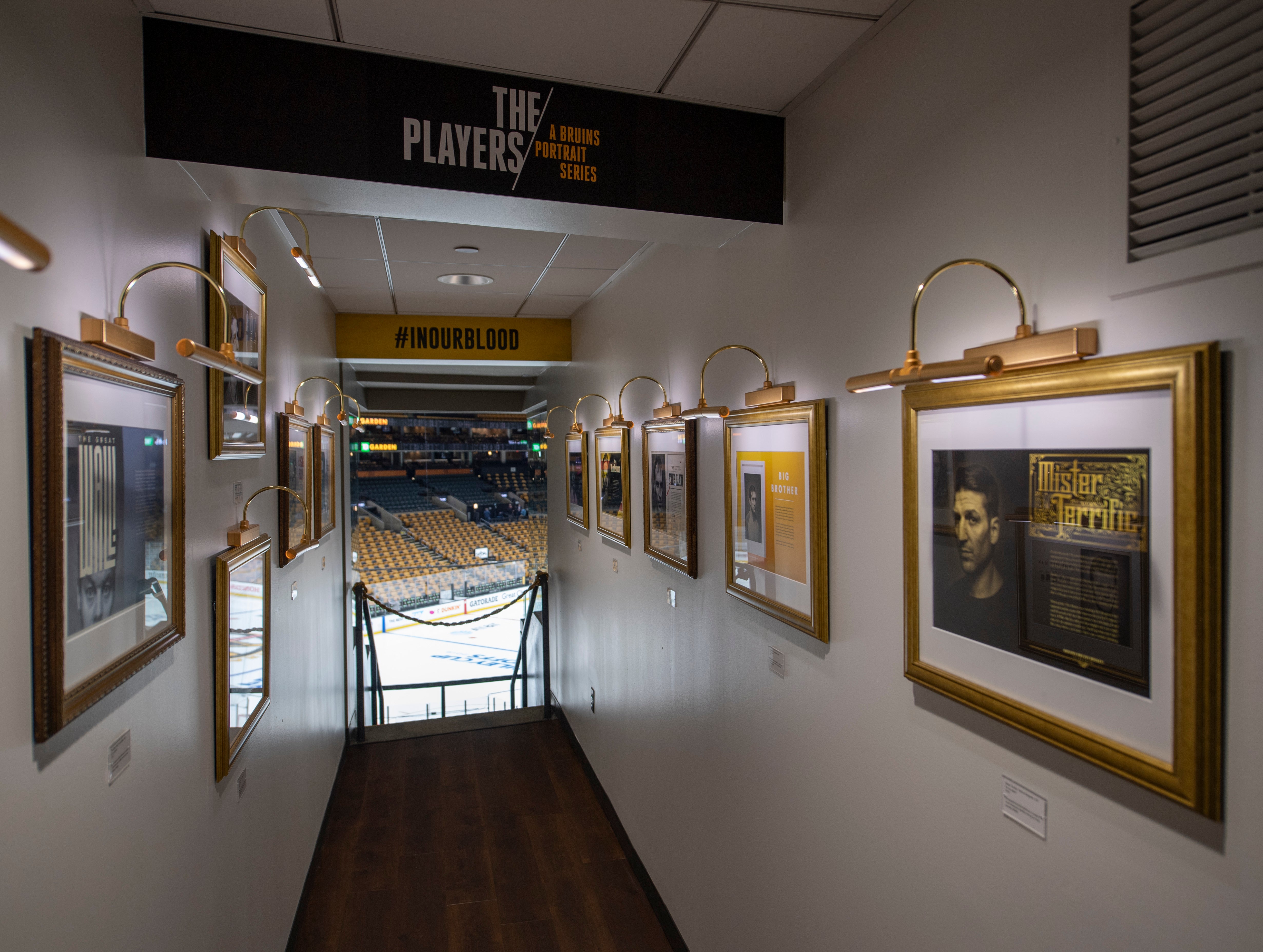 Hidden within the Boston Garden Society at TD Garden, "The Players: A Bruins Portrait Series" Art Allery is where sports meet art in this creative display of players' unique personalities brought to life with photography and graphic design. Fans can experience this TD Garden Hidden Hallway art installation between Society Suites 550 and 551, where each piece is displayed in an art-gallery style alley with hardwood floors, classic music, and an opening that overlooks the on-ice action.
BOSTON CELTICS PARQUET HALLWAY.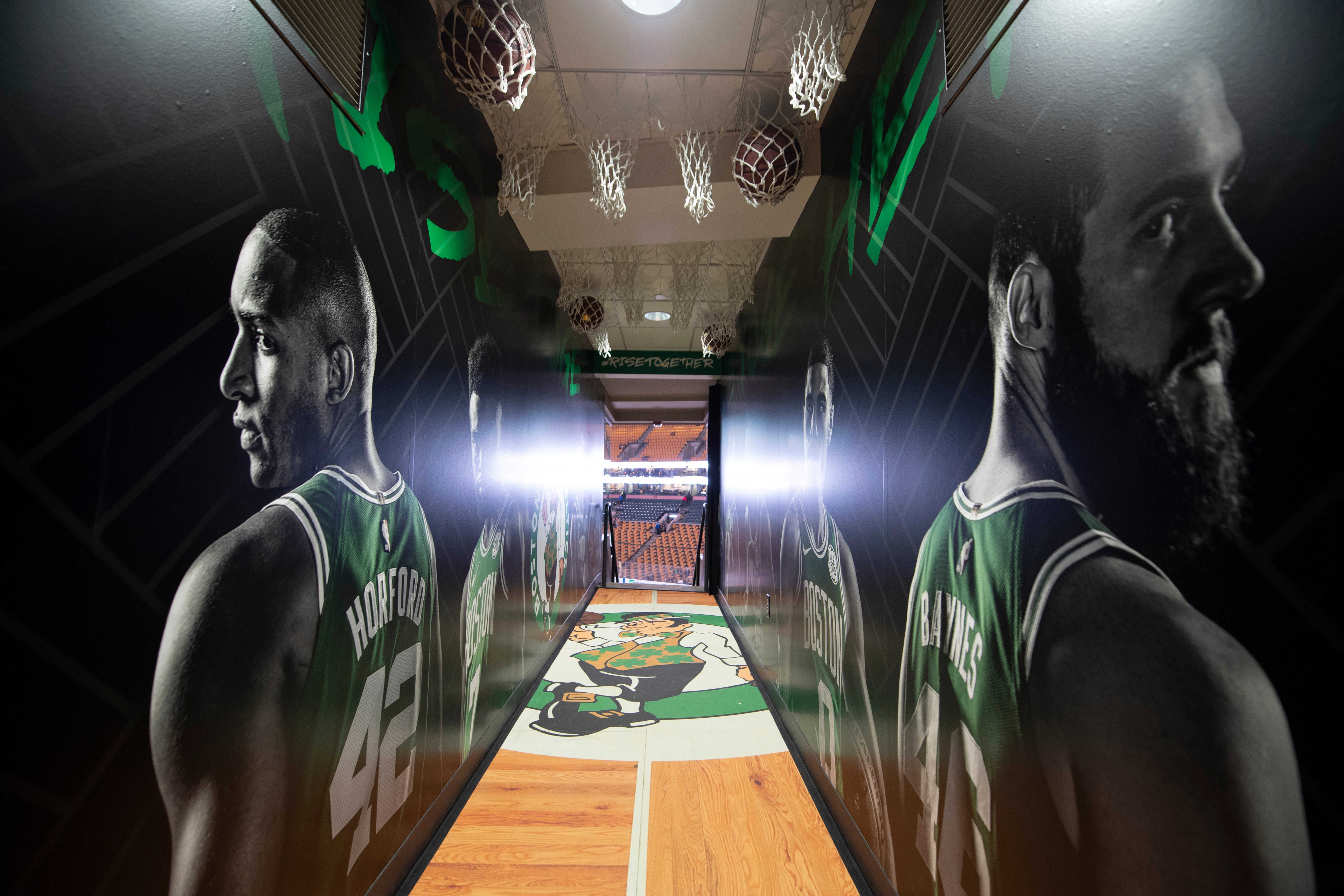 The prime playoff photo op for the biggest Celtics fan is located between 504 and 505. This TD Garden Hidden Hallway is lined with player action photography and Celtics branding, while the floor is a recreation of the famed parquet floor complete with center court logo. The ceiling is lined with basketball nets and basketballs, providing a sensory-filled, immersive experience that leads to the perfect playoff photo op at the end of the hallway.
PLAYOFFS MENU SPECIALS
TD Garden offers the most diverse food and beverage options of all arenas in New England, and this season, Sportservice, Delaware North-owned food, beverage and retail operators, continues to push the boundaries for the fan culinary experience.
GRILLED CHEESE BURGER. Big Bad Burger, Loge 8 & Section 311
A burger that goes for the extra point. This double-decker burger is housed between two grilled cheese sandwiches and topped with lettuce and tomato. All the sustenance a hungry fan needs to cheer on the home team.
HAT TRICK / 3-POINTER BURGER. Located at Big Bad Burger, Loge 8 & Section 311
Rookies need not apply. This triple patty cheeseburger is smothered in gooey sauce and topped with lettuce and tomato and served on a toasted roll.
GOLDEN BBQ WINGS. Located at Big Bad Burger, Loge 8
Sweet and tangy chicken wings bursting with a bright barbeque flavor. The wings keep fans goin' for the Gold-en.
BUFFALO CHICKEN HOT DOG. Located at Frito Lay Test Kitchen, Loge 15
A #TDGEats version of a doubleheader. An all-beef hot dog topped with buffalo chicken, julienned carrots, celery and bleu cheese crumbles.
NACHO BUCKET. Marketplace, Loge 4 & Section 313
Nacho average serving size! Choose between barbacoa beef, salsa braised chicken or black beans to be served over a heaping mound of tortilla chips. Add the fixings that you fancy to finish off the ultimate fan snack.
COLLETTEY'S COOKIES. Hub Hot Dog, Loge 3 & Section 328
TD Garden has proudly partnered with Collettey's Cookies, a local, inclusive business run by Collette Divitto. Divitto is a young woman with down syndrome who took her passion for baking and made it into a business that offers employment opportunities to people with disabilities. Collettey's Chocolate Chip Cookie will score with any fan that has a sweet tooth.
'THE LAST STRAW' CAMPAIGN
TD Garden is proud to announce the implementation of the 'Last Straw Campaign', a Delaware North initiative that seeks to curb excess plastic waste by offering drinking straws on a request-only basis. All concession drinks will be served to fans without a straw. Paper straws will be available upon request.
Delaware North and its six operating subsidiaries, including TD Garden, hope to sustain The Last Straw Campaign as part of its proprietary environmental stewardship program, GreenPath®.