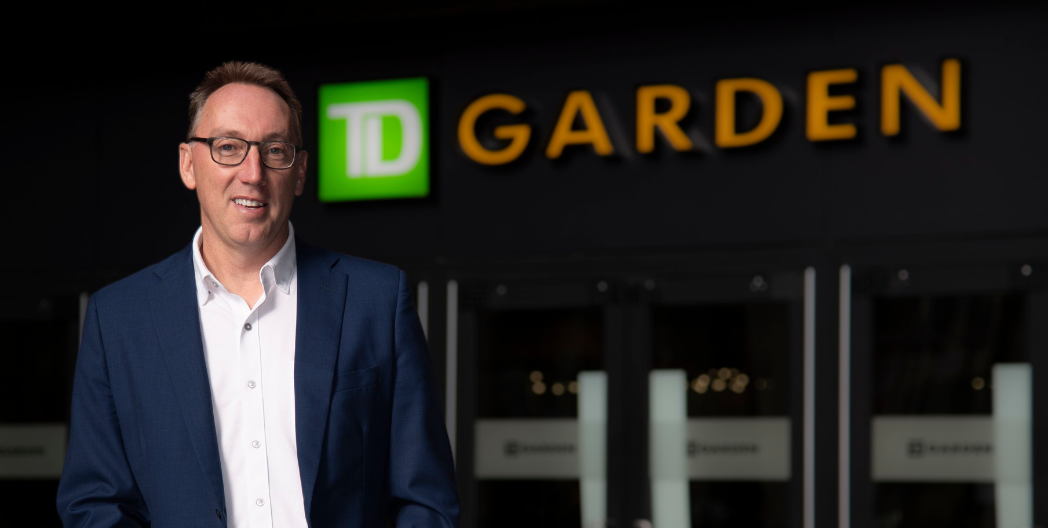 Oct

17

, 2023
Delaware North appoints Glen Thornborough as President of TD Garden and Chief Operating Officer of Boston Bruins
Boston, MA (October 17, 2023) – Delaware North, a global leader in hospitality and entertainment, today announced Glen Thornborough has been appointed to the role of President of TD Garden and Chief Operating Officer of the Boston Bruins, effective immediately. Thornborough, who most recently served as Chief Revenue Officer of TD Garden and Boston Bruins, will succeed Amy Latimer, who was recently promoted to Executive Vice President and Chief Operating Officer of Delaware North.
In this new role, Thornborough will oversee operational excellence at TD Garden including venue operations, strategy and business performance. Thornborough will continue to champion TD Garden's portfolio of events, attract high-profile artists, secure national events and enhance the venue's competitive position. As the Chief Operating Officer for the Boston Bruins, he will be responsible for shaping the organization's brand strategy, driving revenue growth, fan engagement, community relations and overall success in all non-hockey aspects of the organization.
Thornborough is a 25-year veteran of the sports and entertainment industry. In his most recent role as Chief Revenue Officer, he oversaw all Bruins and TD Garden revenue lines, service, sponsorship, marketing communications and community outreach and was a key stakeholder in the arena transformation. Thornborough is credited with delivering steady and outsized business growth during his ten years on Causeway Street, achieving milestones for the organization and the community such as renegotiating TD Bank's 20-year naming rights extension of TD Garden and official partnership of Boston Bruins and launching numerous youth hockey initiatives to grow the game across New England.
"Glen's commitment to business success and ensuring the growth of hockey in New England is unmatched," said Charlie Jacobs, CEO of Delaware North and CEO of the Boston Bruins. "He is a highly respected and experienced industry leader and we are confident that he will continue to build on TD Garden's success as a premier sports and entertainment arena in North America."
"Glen is perfectly experienced to take on this new role at TD Garden and with the Boston Bruins," said Amy Latimer, EVP and COO of Delaware North. "His expertise in business strategy makes him seamlessly poised to be the new President of TD Garden, as he has a proven track record of developing and executing strategies that drive growth."
"Glen has been at the forefront of positioning our historic team as a progressive leader," said Cam Neely, President of Boston Bruins. "He has great relationships with our business partners, secured the Bruins' first-ever jersey patch partner and has been instrumental in launching our Centennial season with great fanfare and success."
Thornborough's leadership in the commercialization of TD Garden's legendary transformation expansion in 2019 has been instrumental in creating a world-class sports and entertainment experience. He is credited with creating a business strategy department at TD Garden to help ensure the venue is well positioned for long-term success. Now in his tenth year, Thornborough has helped accelerate the Bruins brand positioning to being one of the most promising and influential in the NHL.
"I am honored to be appointed President of TD Garden and COO of the Boston Bruins," said Glen Thornborough. "Having been a part of the Boston community for over a decade, I have witnessed the incredible passion and enthusiasm of Boston's fans. I am truly thrilled to take the helm and lead the team in delivering unforgettable experiences within our world-class arena."
About Delaware North
Delaware North is a global leader in the hospitality and entertainment industry. The company annually serves more than
a half-billion guests across three continents, including at high-profile sports venues, airports, national and state parks, restaurants, resorts, hotels and casinos. Building on more than a century of enduring partnerships and a commitment to local communities and sustainability, Delaware North's vision is to delight guests by creating the world's best experiences today while reimagining tomorrow. Learn more at www.DelawareNorth.com and connect with us on Facebook, Twitter, Instagram and LinkedIn.
About TD Garden
TD Garden, owned and operated by Delaware North, first opened its doors to the public on September 30, 1995. In the 25+ years since, the venue has generated more than $365 million in direct economic impact to the Greater Boston region from its major national events alone, not including its high-profile Bruins and Celtics tenants. The arena has played host to countless marquee events, including the Democratic National Convention, NHL All-Star Game, NCAA Frozen Fours, NCAA Women's Final Four, U.S. Gymnastics Olympic Trials, U.S. Figure Skating Championships, and ISU World Figure Skating Championships among others. More at www.tdgarden.com.
About the Boston Bruins
The Boston Bruins are one of the "Original Six" franchises of the National Hockey League, and the oldest club based in the United States, celebrating their Centennial season in 2023-24. The Bruins have remained one of the NHL's most successful franchises throughout their history, ranking second in all-time wins and winning six Stanley Cups (1929, 1939, 1941, 1970, 1972, 2011). For more information on the team, please visit www.BostonBruins.com.