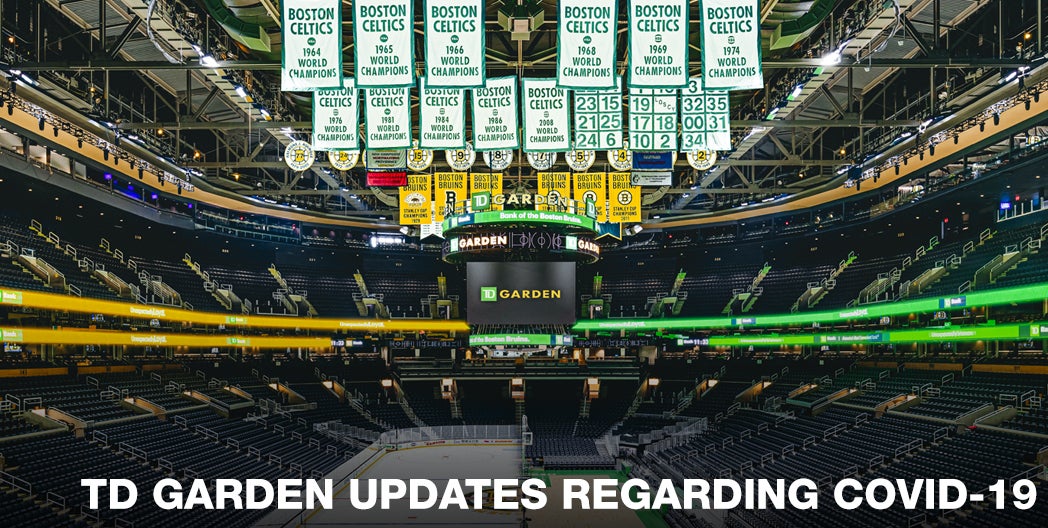 June

16

, 2020
TD Garden Updates Regarding COVID 19
A Statement From Delaware North | March 25, 2020
2:00 PM (EST): Delaware North today announced temporary business stabilization measures relating to Boston Bruins and TD Garden full-time salaried associates due to the unprecedented impact of the COVID-19 crisis on our operations.
Effective April 1, 2020, 68 of our full-time salaried associates will be placed on temporary leave, receiving one week of paid leave and eight weeks of full benefits. Additionally, as of April 1, 2020, 82 of our full-time salaried associates will receive an indefinite salary reduction. Those associates not impacted by the temporary leave or salary reduction have employment contracts.
As relayed to our associates today, none of these decisions were reached without difficult and painful deliberations. These measures are intended to be temporary with associate employment and compensation returning once our business resumes to its normal state from this unprecedented stoppage.
---
Jacobs Family Announces Fund for Part-Time Associates | March 21, 2020
10:00 AM (EST): The Jacobs Family has established a $1.5 million fund for the Boston Bruins and TD Garden parttime gameday associates who will be financially burdened if the six remaining regular season Bruins games are not played. We thank our associates for their patience and understanding while we worked through the complexity of this unprecedented situation.
---
TD Garden Statement Regarding COVID-19 | March 12, 2020
5:30 PM (EST): In response to the developing situation of COVID-19, the NBA and NHL have announced suspensions of their seasons. Additional upcoming TD Garden events are announcing postponements and cancellations, which will be added to the list below.
*Updated as of 9/15/2020
Postponed Events:
Ticketholders should retain their ticket for a future date to be announced.
The Killers (originally scheduled October 5)
Roger Waters (originally scheduled July 28)
Billie Eilish (originally scheduled March 19)
Rescheduled Events:
Original tickets will be honored for the rescheduled date.
Andrea Bocelli (originally scheduled December 12, NEW DATE: December 11, 2021)
Dan + Shay (originally scheduled October 9, NEW DATE: December 7, 2021)
Joe Rogan (originally scheduled October 10, NEW DATE: October 8, 2021)
Enrique Iglesias & Ricky Martin (originally scheduled October 6, NEW DATE: October 5, 2021)
Luke Combs (originally scheduled December 3 & 4, NEW DATES: December 2 & 3, 2021)
My Chemical Romance (originally scheduled September 15, NEW DATE: September 13, 2021)
Harry Styles (originally scheduled July 10, NEW DATE: October 25, 2021)
Dude Perfect (originally scheduled July 23, NEW DATE: July 1, 2021)
The Weeknd (originally scheduled July 11, NEW DATE: July 2, 2021)
Michael Buble (originally scheduled March 25, NEW DATE: March 8, 2021)
Canceled Events:
Guest may receive refunds at point of purchase.
Andrea Bocelli (December 11)
WWE SummerSlam - Friday Night Smack Down (August 21)
WWE SummerSlam - NXT Takeover (August 22)
WWE SummerSlam (August 23)
WWE SummerSlam - Monday Night Raw (August 24)
Camila Cabello (September 11)
Janet Jackson (July 18)
Bon Jovi (July 16 & 17)
Sturgill Simpson (May 15)
Hockey East Championship (March 20 & 21)
---
Statement Regarding March 6 Celtics vs. Jazz Game:
TD Garden and Boston Celtics have talked with health officials who assured us that based on the affected players' health statuses, it is highly unlikely that anyone from the Celtics team came into contact with them while they were contagious. Furthermore, the risk is low for guests, players and associates who were at the Celtics game on Friday, March 6 and events thereafter.
---
TD Garden Preventative Measures for Coronavirus | March 5, 2020
4:29 PM (EST): We take matters of public health very seriously and are closely monitoring the situation as it evolves. We are continuing to look to the CDC for guidance and are actively collaborating with local authorities and industry associations (International Association of Venue Managers) to implement best practices to help ensure the health and safety of our guests. Based on the guidelines provided, we are implementing additional measures, including:
We will continue to monitor the situation and communicate updates accordingly.